CASS Strategic Plan 2021-2022
The 2021-2022 strategic plan represents the collaborative efforts of the College of Alberta School Superintendents (CASS) community. Member engagement, in combination with consideration of research and Alberta stories of practice, have informed its development.
This strategic plan has been designed to incorporate the shared perspectives of the CASS Board and its membership as an interim measure to ready CASS for a September 1, 2022 launch date as a fully regulated and legislatively mandated professional organization.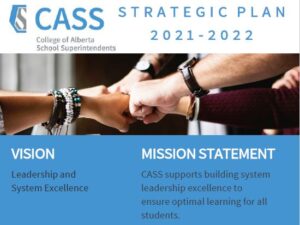 CASS Strategic Plan for 2021-2022
Priority ONE
Effective Governance
Develop an effective, responsive, diverse, and sustainable model of representation within CASS' governance framework.
Priority TWO
Relevant Communications
Provide coherent and influential communications internally and externally.
Priority THREE
Comprehensive and Collaborative Professional Learning
Enhance the growth and succession of system leaders by responding to legislative requirements, recognizing member needs, pursuing certification programming, and expanding participation to school-based leadership groups.
Priority FOUR
Support for the Public Cause of Education
Work with the Ministry and educational partners to increase public interest in the importance of education.