← Back to Conferences/Professional Learning
2019 First Nations, Métis & Inuit Education Gathering
The Gathering is FULL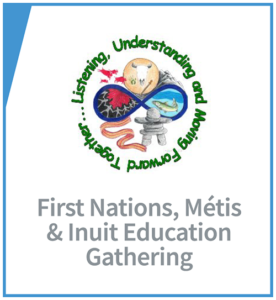 Goal:

Goals for the First Nations Métis and Inuit Education Gathering include:

an increase in awareness and understanding of foundational knowledge of First Nations, Métis and Inuit for the benefit of all students;
an increase in capacity building to meet the learning needs of First Nations, Métis and Inuit students; and
an increase in understanding how to engage and collaborate with First Nations, Métis and Inuit leaders, elders, communities and organizations.

CASS Professional Learning Goal for 2019-20

Deepening the understanding and applying the learning to support implementation of professional practice.

Date(s):

April 10 (evening) - 12, 2019

Location:

Conference occurs at the Fantasyland Hotel,
17700-87 Avenue, Edmonton, AB

Reservations can be made by calling (780) 444-3000 or toll-free 1 (800) 737-3783. MUST mention that you are attending the CASS/Alberta Education FNMI Conference 2019 to receive the rate of $154 + tax.