← Back to Conferences/Professional Learning
2020 CASS Fall Conference
Please note that this page is for the 2020 event. Details for the 2021 Fall Conference will be shared as details are finalized.
---

Fall Conference 2020 Highlights

Fall Conference 2019 Highlights
Conference Details

Updated Online Program, October 28
*Updated, October 28, 2020

Program with Session Descriptions
*Please disregard the session times and note shortened/postponed sessions.
The CASS Fall Conference provides an opportunity to strengthen your leadership growth based on the CASS Professional Learning Goal – 2020-21: Deepening the understanding and applying the learning to support implementation of professional practice.
Based on advice received from the  SLQS Professional Learning Committee conference themes include:  Workplace Wellness, Professional Practice, Assurance Framework, Continuity of Learning 2020-21 – Leading and Learning in the Online Environment, Inclusive Education, Leading Learning – Supporting optimum learning for all students.
Role-alike time has been extended given feedback from members for increased opportunity to network and collaborate with system leader colleagues. Role-alike sessions will be offered both on site and online, as most sessions.
Join system leader colleagues for networking opportunities to gain the tools and strategies to support you in your context and leverage student learning in today's classrooms.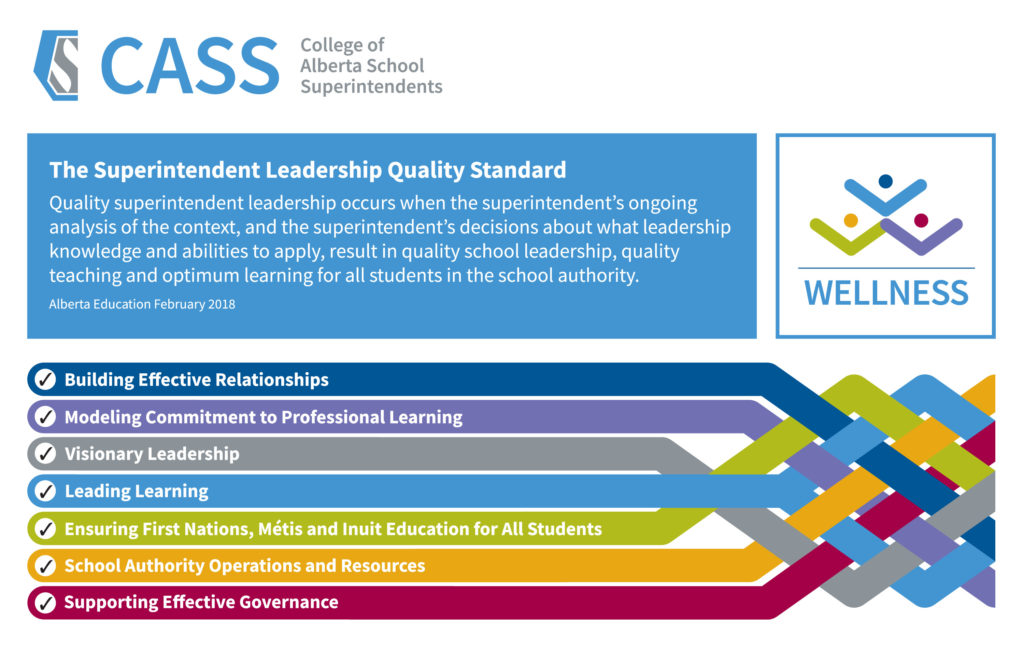 Keynote Descriptions and Biographies
THURSDAY, November 5th 2020 (8:40 – 9:20 AM)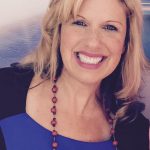 You can't truly live your purpose if you are not well.
In this keynote session, Betsy Wierda, Educational Coach and Consultant from Jacksonville , Florida, will focus on the urgent need for personal wellness as a driver for both workplace wellness and  for the impact it has on the community as a whole. Highly effective results will emerge only through an inside out approach.  You can't pour from an empty cup! Throughout Betsy's session, you will gain insight into ways that hope, optimism and joy can be taught, and how to create innovative practices that can become sustainable habits in our lives.
Betsy's Mission: To inspire courageous leadership in herself and others daily while balancing courage and consideration and providing hope and sustainable influence to all school stakeholders.
Betsy Wierda has served as a Senior Coach, Consultant, District Implementation Specialist and Executive Coach for the Education Division of Franklin Covey since 2014.
She has coached and consulted in both urban and rural, affluent and high poverty populations with great enthusiasm and success. She believes that leadership is within each one of us, waiting for opportunity to be released!  Prior to joining the Franklin Covey team, Betsy spent many years as an exceptional student education teacher and as a principal in an at–‐risk school in Duval County, Florida. She led her team from a "challenged" status per the state of Florida to a high performing school and a vital learning community. She has served as the Director of Professional Development in St. Johns County, the highest performing district in the state of Florida. Betsy worked closely with district office leaders and the Superintendent to create and deliver high yield professional development to all stakeholders. Betsy's goal is to enhance the high achieving systems and structures within each school and district as well as to augment each as a sustainable, systemic learning community that focuses on learning for all stakeholders. Her mission is simple…to develop leaders!
Betsy understands the importance of prioritizing personal wellness while living a life in service to others.  She practices her own wellness through biking, jogging, blogging and spending time with her beautiful family.
Educational Background
ACC Certified Executive Coach through the International Coaching Federation: Franklin Covey, 2020
Doctorate of Education (Dissertation Submission 2021), University of North Florida, Jacksonville, FL.
Master of Education in Educational Leadership, 2000, University of North Florida, Jacksonville, FL.
Bachelor of Science in Specific Learning Disabilities and Music Education, 1986, Hope College, Holland, MI.


---
THURSDAY, November 5th  2020 (11:30 – 12:15 P.M.)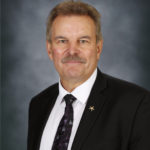 A Story of Connection, Culture and Change
After a career serving in several educational positions, Barry Litun accepted the role of CASS Executive Director and began a new chapter of his story of practice. If you know Barry, you know he naturally and authentically shares his experiences and wisdom through storytelling drawing you into wanting to hear more.
Story is powerful. Story is where we came from and where we are going. In this opening keynote, you will hear Barry share stories from his acquired library, which will be informative, memorable and no doubt make you chuckle. In a conversation with CASS President Bevan Daverne, Barry will share how he has made meaningful moments in between the pages and chapters of his leadership legacy. CASS Leadership Excellence Exemplified!
Barry Litun
Growing up in Chipman, I was about 12 years old when I watched the movie, "To Sir with Love," and from that moment I believed the best job in the world would be as a teacher.  I completed my B. Ed at the University of Alberta and my Master's Degree at the University of Victoria. The summers studying in Victoria, accompanied by my wife Gail and two young sons Justin and Adam are extremely memorable, and indicative of the support I have received from my family throughout my career in education.
I began my career in Lamont, teaching primarily physical education and math. I was able to coach virtually every sport offered, and thoroughly enjoyed doing so. After four years as vice principal at Lamont High School, I was provided the opportunity to serve as principal for Hilltop High School in Whitecourt. After five years, our family moved to Red Deer where I was the vice principal and then principal for Lindsay Thurber Comprehensive High School.
I joined the Central Services team with Red Deer Public as Deputy Superintendent for three years and beginning in 2006 I had the honor to serve as Superintendent for Lethbridge School District. I had the opportunity to complete a four-year term on the provincial CASS executive, including a year as President in 2010/11. I thoroughly enjoyed visiting all parts of our province during that year and meeting the dedicated system leaders that make Alberta's education system one of the very best in the world.
Upon "retirement" from Lethbridge School District in 2013, I was provided the opportunity to become the Executive Director for CASS. The past seven years have been extremely rewarding and I believe that CASS will continue to be an integral partner in the education landscape of our province.
Barry is married to Gail, and they have two sons: Justin (Kealy) in Edmonton and Adam (Erin) in Houston. Justin and Kealy are the parents to Noah & Everett, Barry & Gail's two grandchildren.
CASS Retirement Banquet
THIS EVENT IS NOW POSTPONED TO MARCH 2021. 
Due to the cancellation of the Annual Learning Conference in April 2020, the 2020 Retirement Banquet will now be held in conjunction with the Fall Conference.
Congratulations to the following CASS members whose retirement will be celebrated on Thursday, November 5, 2020.
Bob Allen
Janice Aubry
*Barb Brochu
*Joan Burke
*Jeannie Everett
*Chris Farquharson
Manny Ferreirinha
Michael Hauptman
*Stu Henry
*Brett Huculak
*Metro Huculak
*Dalene Imeson
David Keohane
*Ruth Kuik
*Cathy McCauley
*Glenn McClure
*Charlie McCormack
*Lorne McDonald
*Doug Nicholls
Dr. Lorne Parker
*Violet Parsons-Pack
*Nick Radujko
*Chris Smeaton
*Lissa Steele
Gary Strother
Richard Svoboda
Colleen Symyrozum-Watt
Dr. Norman Yanitski (retired in 2018-2019)
*unable to attend
Retirees on this list are the retirees that gave CASS explicit permission to be acknowledged.
Conference Reading and Resource Materials
Continuity of Learning  – Re-Entry Learning Opportunities (May- August 2020)
The intent of CASS Learning Guides is to apply research, deepen understanding and enhance professional practice within the Alberta context.  With a focus on optimum learning for all students, a Learning Guide provides an opportunity to grow system leader knowledge, resulting in quality school leadership and quality teaching throughout Alberta. Learning Guides include a summary of the webinar, connections to the Alberta context and su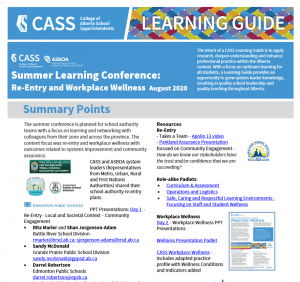 ggested questions for reflection and dialogue.
LEARNING GUIDE – School Re-Entry: Learning From and With System Leader Colleagues (CASS/ASBOA Summer Learning) 
LEARNING GUIDE – CASS Workplace Wellness: Planning and Implementation Guide
LEARNING GUIDE – CASS Leadership Excellence: Sharing Stories of Practice During COVID-19
---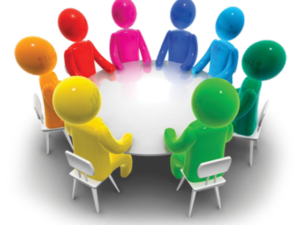 Fall 2019 CASS Role Alike Summary
Outcomes/Intent of  the "Role Alike" session is designed to allow CASS members to: · Share and learn about strategies and approaches that support staff capacity and student learning in the Alberta context. (e.g., addressing competencies of the Standard), network with others in similar roles, identify priority actions for the CASS Board to consider and when most appropriate  receive updates from Alberta Education and dialogue with Alberta Education . Conference survey data shared that these sessions provided a valuable opportunity to learn how colleagues apply their knowledge and decisions, based on their context and represented "Alberta Stories of Practice".
---
Don't Let Tough Times Go to Waste – Message to CASS members from Santiago Rincón-Gallardo
Dr. Santiago Rincón-Gallardo has shared his research for the past number of CASS learning opportunities. He has provided this message based on his understanding of the Alberta context, his recent research and the opportunity he has had to work provincially as well as with individual districts in Alberta.
Conference Supporters
GOLD SPONSOR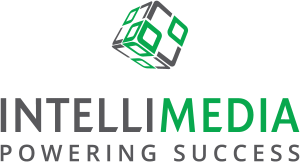 An Edmonton based provider of education related software, professional customization services as well as business consulting.  Our flagship solution Dossier Systems enables schools to manage inclusive education needs, create data driven student profiles, as well as aggregate data from separate systems for analytic and benchmarking purposes. Intellimedia is a leading expert in customizing PowerSchool to tailor to the needs of individual districts.
BRONZE SPONSORS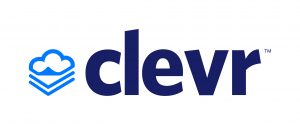 clevr is an enterprise solution that empowers districts to build, distribute and process unlimited online forms and digital workflows for any department or school-based team. At present, clevr is engaged with 28 School Divisions across Alberta, consolidating and standardizing a myriad of forms and workflows across most all departments, including: Student Services, Human Resources, Health & Safety, Finance, and Transportation.  If your District struggles with manual forms and would like to start making sense of all your data, it would be worth a conversation.
Forms and Workflow for Divisions in Alberta
---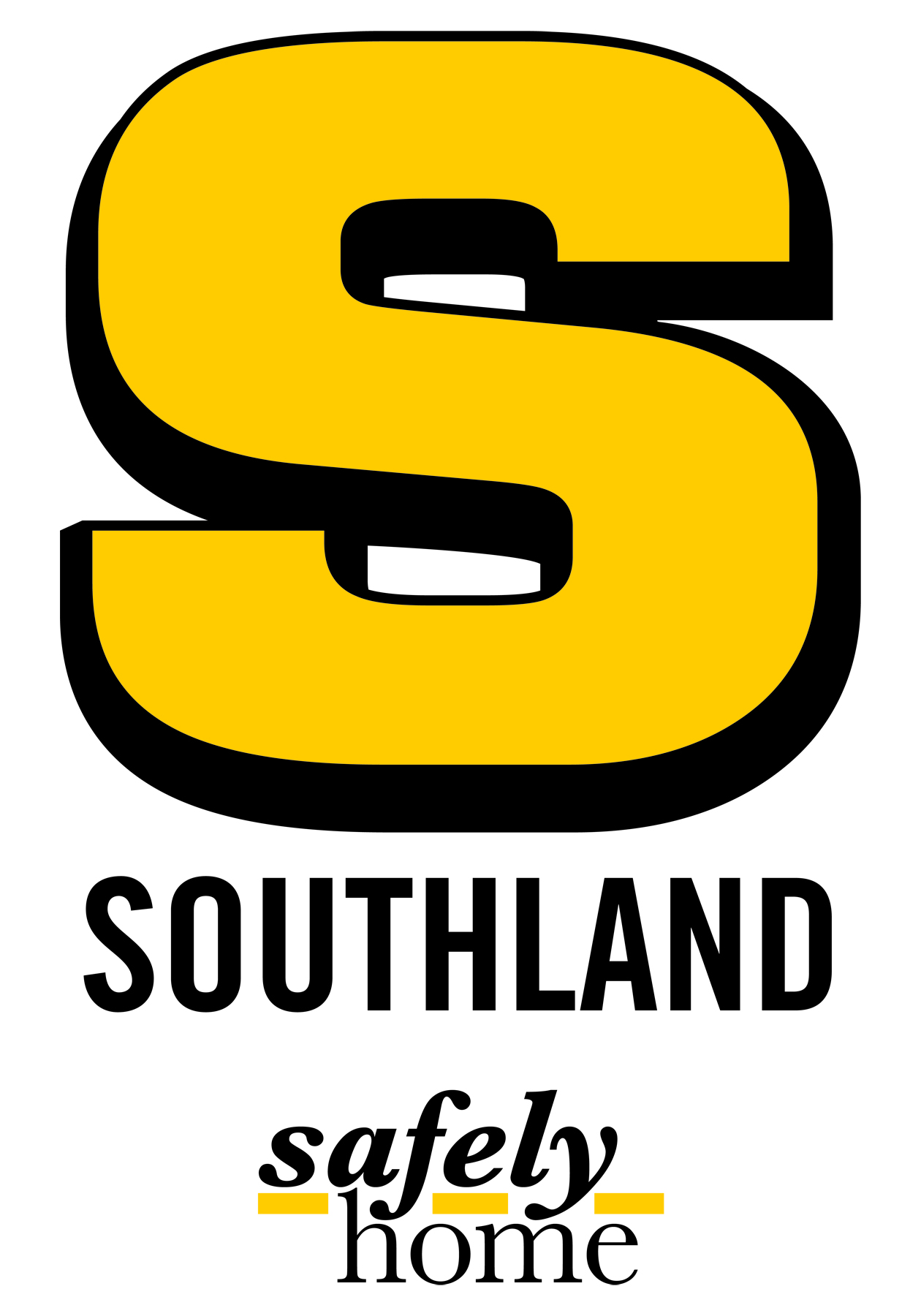 Since 1971, SOUTHLAND Transportation Ltd, has been Alberta's very own industry leading student transportation service provider. Still Alberta family owned, SOUTHLAND has grown to be a coast to coast leader thanks to its loyal customers and dedicated team members focused on customer service. With 5000+ employees Canada wide and 49 years of experience, we are sure to have service solution customized to fit your school division regardless of size. Our people are our greatest asset. After all its our people who safely transport our students where they need to be. In all of the urban and rural communities we serve, our employees bring the Core Values to life, day in and day out.
"Our mission is to exceed customer expectations by employing talented people who share in the dedication of a company committed to Safety and Service".
---

For over a century, Nelson has built and continues to strengthen its partnerships with educators and school administrators across Canada, and around the world, who enhance the ongoing development of trusted learning solutions aligned to curriculum expectations. As the education landscape continues to evolve, now more than ever, Nelson's mission to re-imagine and define these learning solutions, preparing students for tomorrow's workplace, remains at the core of our values.
Wherever learning happens, Nelson resources are designed to support the educational journey. From engaging and state-of-the-art technologies, to authentic classroom resources, to professional learning services, Nelson's commitment is steadfast in supporting lifelong learners.
---

Thoughtexchange helps you quickly gauge support for your decisions and get the perspective you need.
Ask a question and invite your team, company, or community to share their feedback. Once they've shared their thoughts, they can view and rate the input that others have given. This unique process gives you a prioritized list of things to consider, helping you to avoid costly assumptions and mistakes. You can run an exchange live in a meeting or town hall, or you can keep your exchange open for weeks. Once your exchange is closed, you can download custom reports to share back with your team. With advanced tools and analytics, you can dig even deeper into the data, uncovering common ground, controversial thoughts, and themes within the group.
Whether you're looking to build community across your remote workforce, design your next big project, or support your employees through tough times, Thoughtexchange can help you create conversations at scale and learn what's on everyone's mind.
---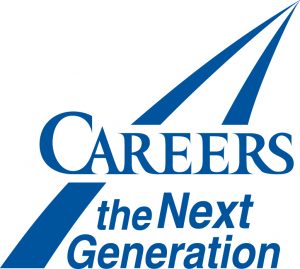 CAREERS: The Next Generation is a non-profit organization founded in 1997 to enable youth on their path to rewarding careers. In working with our school partners, together we connect high school students with employers for paid internships.  This hands-on learning complements the classroom by allowing youth to explore in-demand opportunities, earn credits towards graduation and in some cases, get a head start on their future career.  CAREERS provides value to schools by supporting off-campus education and career integrated learning and securing employers to provide student internships.  Together, we are creating strong vibrant communities where youth develop successful careers.
---
Pearson is Canada's leading educational publisher, developing resources you can rely on in any setting for all core curriculum subjects K-­12. Pearson Canada's innovative learning solutions are created in collaboration with Canadian educators, with an emphasis on pedagogy, efficacy, and best-in-class content.
Pearson Canada sees the diversity of Canada's students as a strength and is committed to developing a full array of core curriculum, supplementary, assessment, professional, and early learning resources to help students of all ages learn at their own pace, and in their own ways.
Pearson Canada represents leading professional learning educators from Canada and around the world, including Heinemann, Pearson ERPI, Annick Press, Teacher Created Materials (TCM), Taanishi, Routledge Press, and more.
Find print, digital and hybrid solutions at pearsoncanadaschool.com.
 October 26, 2020 UPDATE
Putting your health and safety as a priority, considering concerns about increasing COVID-19 cases in Alberta, and the recent decisions of educational partners with respect to face to face conference gatherings are factors into the decision to switch the CASS Fall Conference program to a full online format.
Online Registration Closed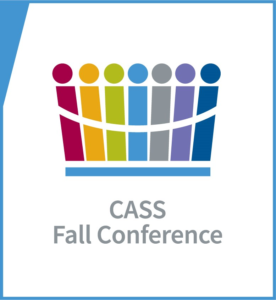 Goal:

CASS Professional Learning Goal – 2020-21

Deepening the understanding and applying the learning to support implementation of professional practice.

Date(s):

November 5 - 6, 2020

Location:

Online
Changed on October 26, 2020